Turtles, Sherlock and Mammoths Await at the Frost Museum of Science | Family News
The years of financial struggle to realize The Phillip and Patricia Frost Museum of Science in downtown Miami now seem like a faded memory, but it's only been a little more than five years since its magnificent new building opened with scant few exhibitions and skepticism surrounding its sustainability.
Today, tourists and local families alike are flocking to the four-acre property at Maurice A. Ferré Park that's brimming with things to see and do in Frost Science's planetarium, aquarium, and north and west wings. Even its summer camp is sold out.

The museum has had substantial growth, says its president, Frank Steslow, with business booming at higher levels than before the pandemic because of Miami's growing population. Frost Science is responding to the increased number of visitors by creating new displays with richer substance and more intriguing and relevant themes.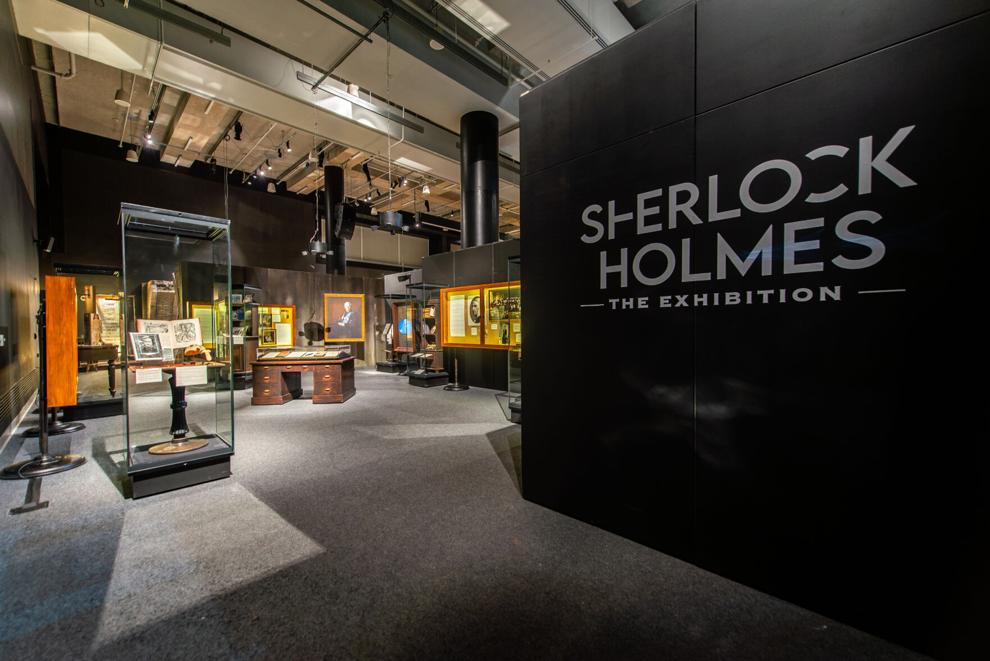 Through its new permanent exhibitions, as well as temporary and traveling ones, museumgoers learn about the fundamental science behind marine biology, the solar system, physics, and the biology of the human body and mind. Through interactive exhibitions, shows and a virtual lecture series, one can explore the many fields of science, technology, engineering and math (STEM).
So, if you've not been in a while or are looking for someplace to take the kids during their break from school, here's what you'll discover.
"Sherlock Holmes: The Exhibition"
This summer traveling exhibition (another comes in winter) is dedicated to the famed fictional detective of books, TV and film. It explores culture, science and history all at once, and is on display until Sept. 5.
"Sherlock Holmes" captures the evolution of science throughout the Victorian era, the advancement of modern medicine and pharmaceuticals, and how forensic science has evolved over time through technological advancements.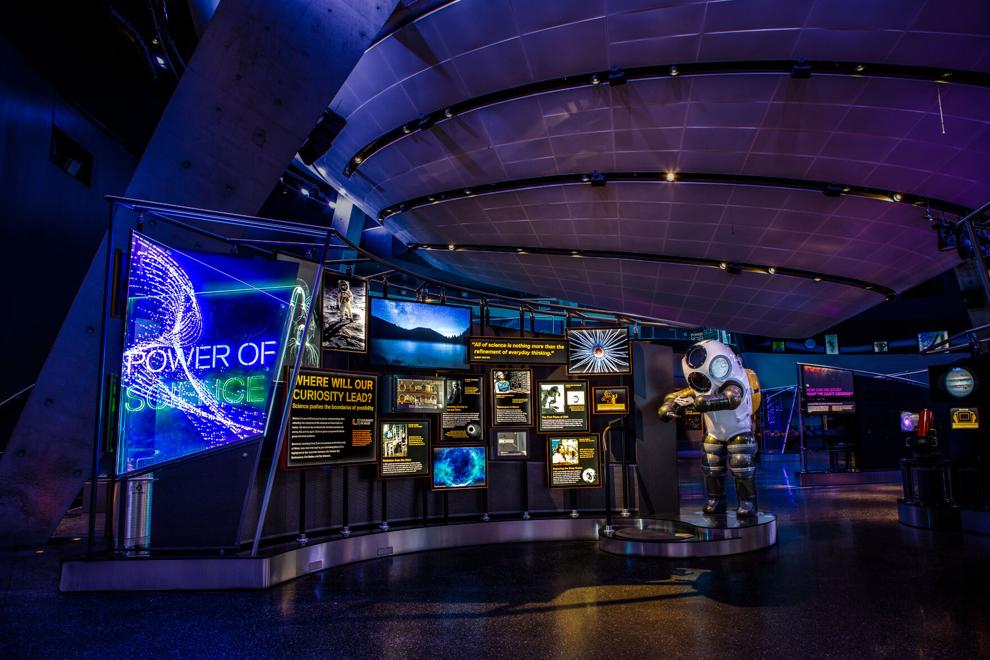 The immersive installation is littered with clues (in English and Spanish) and leads you through a crime scene that you must solve. Brush up on those critical thinking skills before you go, because you don't want to miss any hints along the way. Like Holmes said in 1891's  "The Boscombe Valley Mystery," "There is nothing more deceptive than an obvious fact."
Starling Hunter, a visitor from Sweden and an owner of the original Sherlock Holmes novels, called the exhibition very clever. His daughter, Charlotte, said the interactive parts were her favorite.
"Power of Science"
Frost Science's newest permanent exhibition, created in partnership with the University of Miami, feature discoveries and highlights the ongoing research of UM scientists.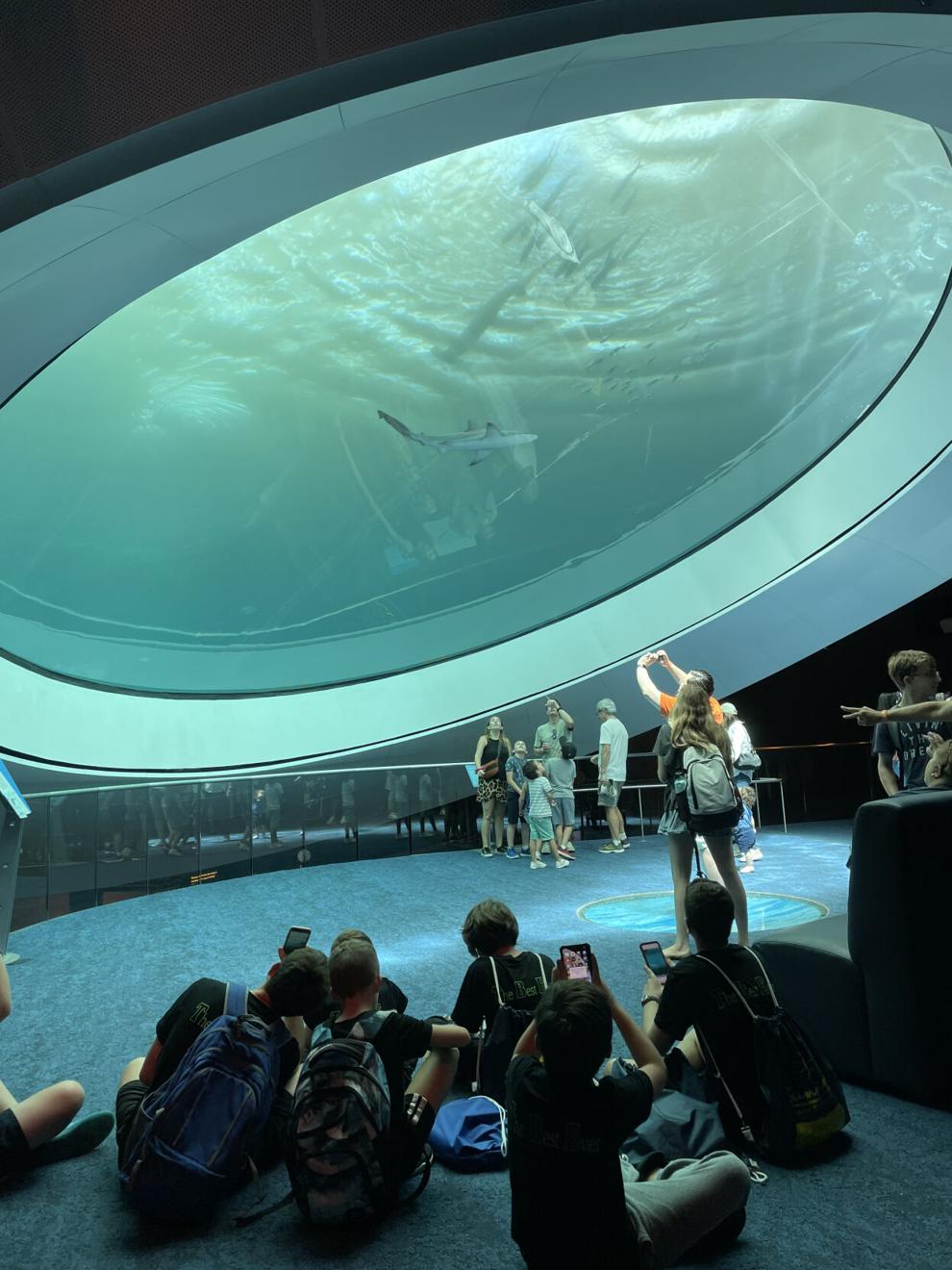 The interactive exhibition explores four frontiers: the oceans, environment, universe and bodies. It examines hurricanes and how to preserve coastlines, as well as historical discoveries and research, and how all of this influences our planet and realms beyond Earth, such as the solar system.
An exhibition highlight is an interactive plasma floor, which is a crowd favorite. Sebastian Prieto, 7, a Miami local, said it was his favorite part of the museum because he was able to break dance on it.
Other Things to See
The pathway between the aquarium and the "Power of Science" exhibition is where you'll find the much-photographed Gulf Stream Oculus, where guests often stop in their tracks to watch fish, sharks and turtles swimming by.
Adam Lew, a counselor at Camp Beth Emet, was at the museum the day we visited and told the Miami Times that the oculus is one his students' favorite parts of the museum because they get to see a giant turtle.
"Mammoths: Ice Age Giants," a temporary exhibition, travels back in time to analyze the biodiversity, adaptability and extinction of those mighty creatures – and other species that coexisted with them – which inhabited North America 10,000 years ago. A 10-foot-tall mammoth skeleton is on display for visitors to examine. This exhibit is open-ended, with no current closing date.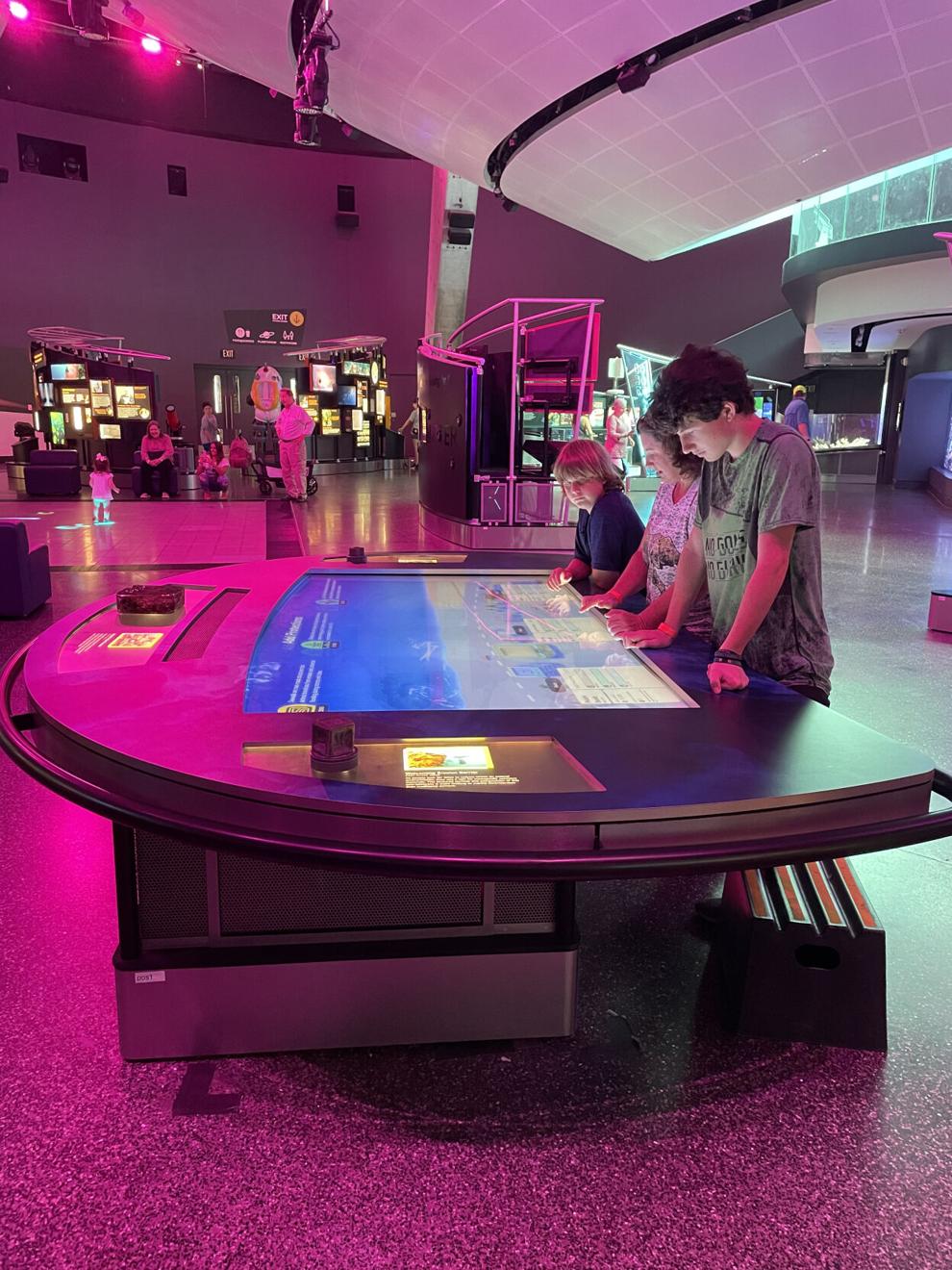 Education & Summer Camp
Besides new exhibitions, marine conservation efforts and ongoing coral reef research, Frost Science is also committed to education, with its summer camps and after-school programs winning national accolades. Teachers can access educator guides for curriculum or field trip planning on the museum's website.
Many summer camps in Miami-Dade County are funded by The Children's Trust. However, the majority of those programs are 6-8 weeks long, which doesn't allocate time for summer vacations.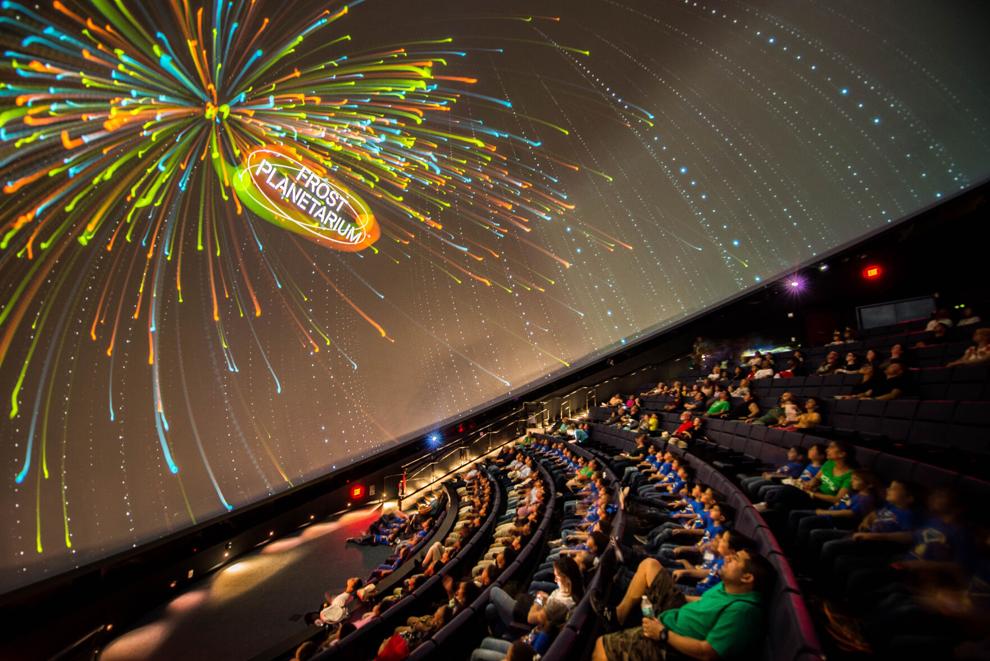 Frost Science's extensive and robust summer camp program, designed for students ages 4-11, has become extremely popular because of its modular programming with different weekly themes and flexible pricing that doesn't pin parents down for the entire summer.
Weekly topics include astronomy, engineering, marine biology, forensic science, physics of light, archaeology, chemistry and the Everglades, among others. One of this year's unique modules creates a connection between science and art and explores geometrical patterns in architecture.
Sara Raposo, Frost Science's director of educational programs, says the goal of the camp is to expose students to topics in science that are interconnected, as well as to careers in STEM. Experts in different fields come in so children can ask questions and experience the human side of science.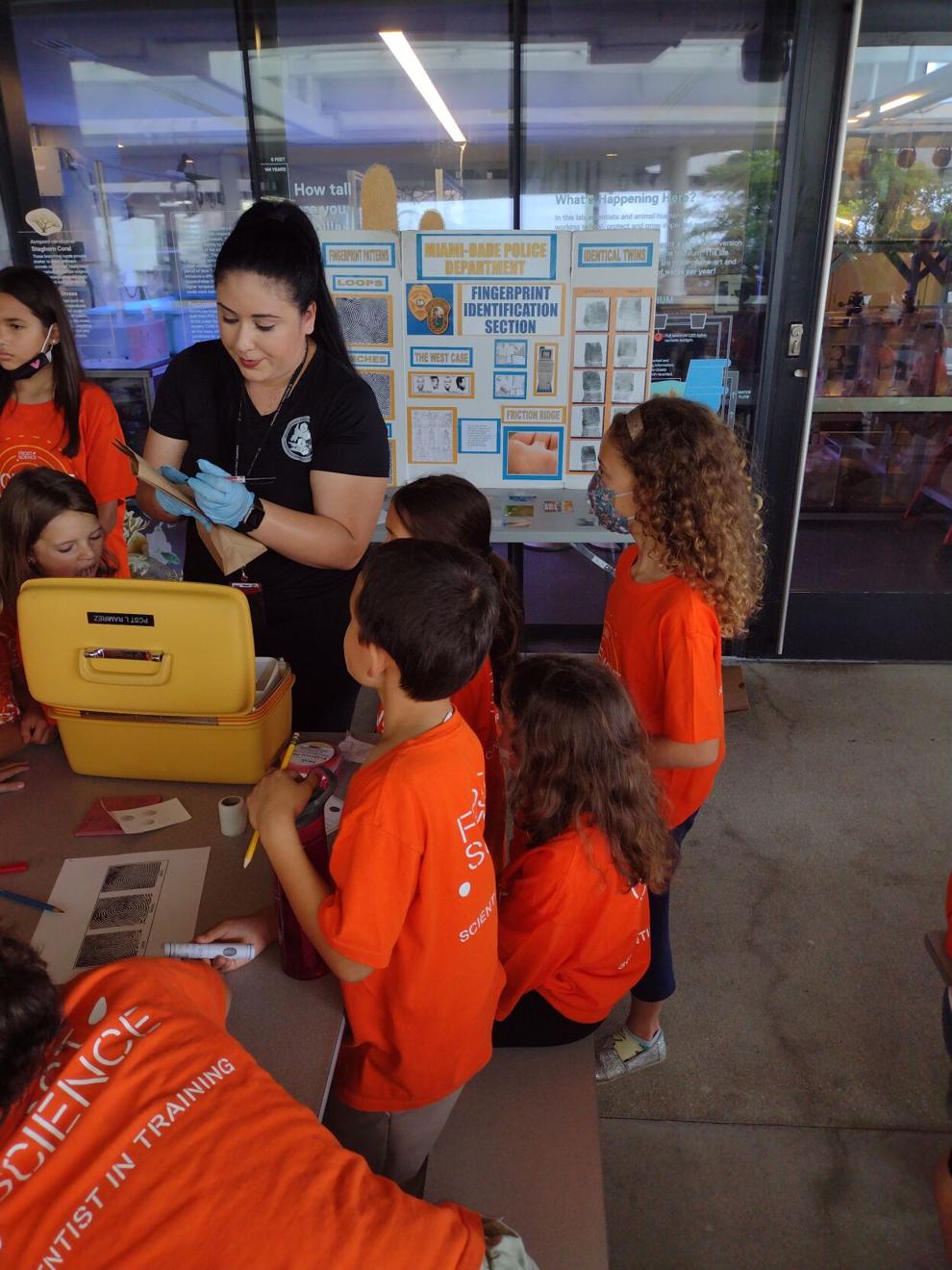 For example, the museum brought in the Miami-Dade Police Department to speak with campers about fingerprinting for the forensic science portion of the camp, and plans to bring in shark specialists for the marine science module.
"From discovering Miami ecosystems while interacting with scientists and engaging with astronomy in our Frost Planetarium, to diving into marine biology by getting up close and personal with the animals that call Frost Science home, there's something for everyone," said Raposo.
Her advice to parents is to begin planning for the summer at the beginning of the year, as camp programs are posted between late January and early February, and reach capacity within a couple of months.
Every year, the museum develops a new curriculum with different modules. While the topics typically remain the same, Raposo and her team brainstorm to come up with new, innovative approaches to make the topics as informative and fun as possible.
In the Works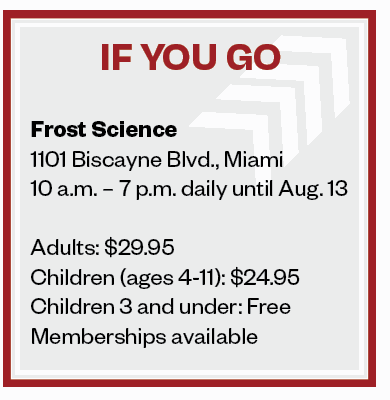 Next year, Frost Science hopes to introduce a different perspective on natural history for its summer programming, with the possibility of a dinosaur module and potentially more forensic science options, as it's proven to be one of the most popular options this year.
And while camp is sold out, the museum is open daily all summer with extended hours until Aug. 13. The planetarium presents shows every day; a monthly laser show is designed for visitors of all ages. Elizabeth Ricardo, director of marketing and public relations, encourages guests to visit in the morning and avoid the midday summer rush in the museum and its parking garage.
Frost Science has much in store for the future, with several new programs that will place a greater emphasis on natural history in the planning stages. Also being considered: a building expansion and the return of adult overnight stays, so folks can enjoy a Miami-style "Night at the Museum."