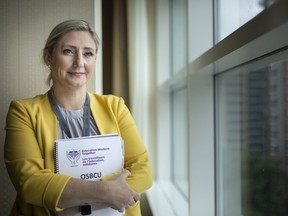 Article content
Frontline education workers from across the province are in Windsor this week, voicing concerns about working conditions, low wages and pandemic-related staffing shortages as they prepare for contract negotiations with the newly re-elected Doug Ford government. 
Article content
"Every single round of bargaining is important but this has added significance," said Laura Walton, president of the Canadian Union of Public Employee's Ontario School Boards Council of Unions. 
OSBCU's negotiating committee gathered in Windsor last week ahead of its annual convention which opened Monday at Caesars Windsor and wraps up Thursday.  
Last Friday, just a day after the provincial election, OSBCU served notice to bargain with the provincial government and the Council of Trustees' Associations. 
"CUPE education workers are ready to negotiate a contract that protects and expands services for students while raising wages for the lowest paid workers in the education system," Walton said. "It's within the re-elected premier's power to avoid more disruption for students this fall." 
Article content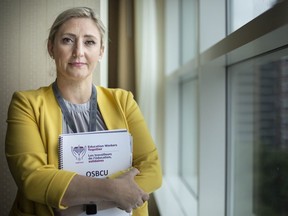 There are 55,000 OSBCU education workers employed by the public, Catholic, English and French school boards across the province. They work as education assistants, school library workers, administrative assistants, custodians, tradespeople, early childhood educators, child and youth workers, instructors, nutrition service workers, audio-visual technicians, safety monitors and social workers.  
The union says they earn, on average, $39,000 a year. 
"We're really hearing some powerful stories here," Walton said, noting that significant inflation means workers can't afford as much as they used to. "People are looking at their pay stubs from five to seven years ago and they're making less than that now." 
Article content
The union said over the last decade, wages for these workers have fallen well below inflation. It said legislation enacted by the previous Liberal government and Ford's government interfered with collective bargaining and limited wage increases. The Conservatives' Bill 124 capped wage increases at 1 per cent for the previous three years.  
"We've had wage restrictions, we've had wage freezes and then we moved into the pandemic where our workers were on site the whole time," Walton said "We've already done our three years (under Bill 124). We have the opportunity to freely negotiate now because Bill 124 expires August 1st." 
Walton said school boards across the province lost education workers who elected to retire rather than face unsafe working conditions related to COVID-19 in schools and others who opted to work elsewhere. 
Article content
"The majority of our workers work more than one job," she said. "We have a recruitment and retention problem and we need to see that addressed at the table. Ford's mantra in this election was 'get it done.' Well, it's time to get it done." 
Walton noted how the pandemic "pulled back the curtain on a lot of dirty secrets and it became clear how there are more than just teachers in the school." 
CUPE Ontario president speaks in Windsor, challenges cuts to public sector

Ford government cuts spark call for 'organized action' at town hall meeting

Activists speak out against Ford government's first year
The value of early childhood educators, educational assistants and custodians came to the forefront. 
"We are committed to the kids," Walton said. "We are going to fight for the services that they need. We're not walking away from parents. We're working closely with them so that their messages are also heard."
Better wages and job security are key, she said, to avoiding even more employee losses in the future. 
"A lot of work can be done in the next 90 days," she said, referring to the amount of time before school starts in September. "Whether schools across the province are provided enough money to stop damaging cuts is a political choice made by our elected representatives."